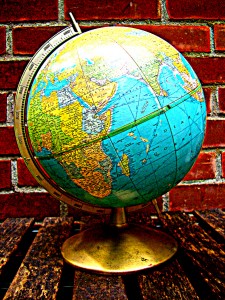 Imagine arriving in Russia in the winter of 1838, where it was so cold, icicles formed on your eyelashes and your flask of sherry froze.  Or tumbling into a pit of sharp stakes in Africa, saved only by the thickness of your durable Victorian skirt.  Tales of adventure travel captivate me, especially when they are about women wearing corsets who often believed, as did Mary Kingsley (1862-1900) that "you have no right to go about Africa in things you would be ashamed to be seen in at home." 
 A few years ago, I was lucky to be on a layover in London during the National Portrait Gallery's exhibit Off the Beaten Track Three Centuries of Women Travellers. Portraits in various media of 60 women were displayed in an intimate setting, each accompanied by a succinct, revealing and sometimes amusing synopsis. Beryl de Zoete, a British writer and dance critic who visited Bali in the 1930s, was a celibate vegetarian who divorced her husband for taking a mistress and eating beefsteak.  Also on view were selected artworks produced by the women and some of the souvenirs they collected on their journeys from the 1660s to the 1960s.
 Each woman's reasons for travel were highly individual.   Isabel, Lady Burton, followed her explorer husband to the Middle East, while Jane, Lady Franklin, searched for relics from her late husband's doomed expedition to find the North West Passage.
 Some women sought freedom from the rigid rules imposed by society, while others, like Jane Digby, left to escape a bad marriage and scandal.  Isabella Bird, who travelled to the Far East, and Marianne North, who visited the Indian subcontinent, were both plagued by illnesses which inexplicably disappeared once they had left the stifling atmosphere at home.
 Other contrasts were more visual. Margaret Stevenson, visiting her son Robert Louis in Samoa, looked uncomfortably out of place in her stiff Victorian garb, surrounded by locals in native attire.  The mid-19th century lithograph of Lady Hester Stanhope, however, showed a confident woman wearing the full Turkish costume – of a man.  Stanhope remained a wanderer, even after her life ended.  Two burials and 165 years after she died, her cremated remains were finally scattered in Lebanon.
 Their methods of travel varied as well.  Annie, Lady Brassey, sailed the Pacific in the comfort of a luxurious yacht while Isabella Bird developed her photographs on board as an opium-fortified crew dragged her boat up the Yangtze in the 1890s.
 Several of the travellers profiled, including Gertrude Bell, were anti-feminist and actively opposed women's right to vote. Mary Kingsley, perhaps the most famous of all Victorian female travellers, stated that "no woman equals a truly great man."  But each amazing story served to contradict her belief.
 The portraits, souvenirs and mini-biographies evoked a mixture of awe and admiration. They also made me want to delve further into the adventures these women encountered and Dea Birkett's splendidly illustrated book, Off the Beaten Track – Three Centuries of Women Travellers, satisfies that craving. 
 In the end, I felt a bit ridiculous for complaining about the inconveniences of modern travel.  Most of us would rather hoist our bag into an aircraft luggage bin than fight off a crocodile with an oar.  Still, the romance of the journey beckons to many, either as active participants or as passive viewers.  Off the Beaten Track provides a vicarious thrill and sparks a longing for a world that was more mysterious and inaccessible than it is today. 
Read these other books by and about women travellers and be inspired.
 Do you have any favourite stories by or about women travellers?
© 2010 – 2013, Heather Zorzini. All rights reserved.