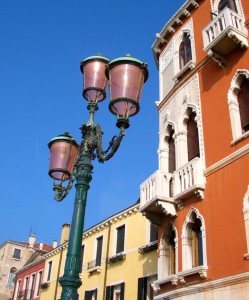 SPECTACULAR SECRET
The most glorious sanctuary in Venice is Santa Maria Assunta ai Gesuiti.  Most of the interior surfaces of this Baroque Jesuit church are covered in an intricately carved pattern of green and white marble. This stunning feat of craftsmanship is enough to make you overlook the Tintoretto and Titian paintings on the walls. Risk a trip to Hell by snapping a forbidden photo then drop a couple of euros in the collection box to assuage your guilt.
MAGNIFICENT IN MURANO
Dodge the aggressive shop keepers and head straight for Basilica dei Santi Maria e Donato.  This church may be older than San Marco though its elaborate mosaic floors have been spared the damage caused by constant visitors and the heaving high waters of St. Marks Square.  The odd opening hours may also have something to do with its wonderful state of preservation.
CHAMPAGNE ITALIAN STYLE
Live the high life, or at least appear to by quaffing copious quantities of Prosecco, the Italian version of champagne. It's dry and crisp, and the bubbles are so festive. For another cheap treat, order the house wine when dining out.  More often than not it's delicious.
CANNAREGIO DISTRICT
On Strada Nuova,  buy a lantern with glass the pale pink of Venetian street lights. Don't worry about getting it home. You'll leave the shop carrying what looks like a wasp's nest on steroids.  Your lamp will be swathed in enough bubble wrap to be sent by catapult and still arrive intact.
PEGGY'S HOUSE
Browse through rooms of Abstraction, Futurism and Cubism in The Peggy Guggenheim Collection. It's like first aid for modern art lovers suffering from an overdose of Baroque and Renaissance talent.  This one storey palazzo looks like a modest bungalow amidst its splendid multi-storied neighbours along the Grand Canal.
THE BACK END
St. Mark's Square and The Grand Canal aren't the only shows in town.  Skip the tourist hoards and join the locals on the promenade Zattere al Ponte Lungo facing the Giudecca Canal.  Order a Venetian Spritz (Prosecco & Campari) at a quay-side café or meander off the beaten path and enjoy the dreamlike beauty in the maze of smaller canals.
© 2010 – 2013, Heather Zorzini. All rights reserved.