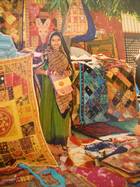 It's 110 degrees in the shade, if you can find any, and I'm haggling with an immovable merchant.  As my jet lag temporarily lifts, I realize I'm arguing over 60 cents.  I hand over 150 rupees (about $4.50), grab the brightly embroidered bag and slink away.  
Welcome to New Delhi, the jumping-off point to the legendary Taj Mahal. But I've already done my compulsory tour of Agra.  Today, I'm enjoying another of India's exotic treasures – extreme shopping at some of the city's fabulous markets, and I've taken a few flight attendant friends with me.
 Our first stop is Janpath.  Along the alleys, stalls are bursting with cheap and fashionable clothes. We grab long cotton skirts with ruffles down the front or along the hem, for about $9.00 each.  Paired with a sleeveless embroidered top, it's a great summer look.  Another shop catches our attention with tie-dyed mirror-work tops, an updated hippie look in vibrant hues.  There's one in each of our favourite colours – orange, fuchsia and turquoise, and we strike a better deal for buying in bulk – $4.50 each. Keep Reading
© 2011 – 2013, Heather Zorzini. All rights reserved.