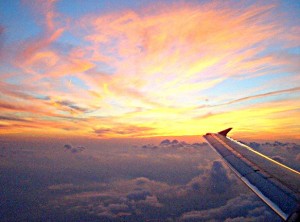 Airline employees and savvy travellers know better than to check their luggage.  That means efficient packing is paramount.  Though these tips may seem controversial and against accepted travel wisdom, you'll be more comfortable, better dressed and less of a target if you follow this practical advice.
BLUE JEANS
Unless you're going to a dude ranch, bulky blue jeans are a waste of valuable luggage space.  They can also be uncomfortable to wear for long distance travel and can discourage gate agents from offering you that coveted upgrade. Designer or discount, jeans are still taboo in some clubs and fine restaurants. Instead, travel in non-wrinkle cotton or linen pants, which are classier and lighter to pack.
WHITE ATHLETIC FOOTWEAR
Runners, gym shoes, trainers, call them what you like but don't call them stylish.  There are many other ways to keep your feet happy while promenading along the boulevard.  Try wearing a pair of chic loafers like the French do, and café waiters will assume you parlez like a local. If you must wear athletic footwear, at least avoid white. 
BACK PACKS
Nothing says "tourist" louder than a bulging backpack.  A more sophisticated way to travel around town is with a canvas messenger bag.  Sling it over your opposite shoulder for better security than a backpack, which is often accessible to everyone but you. There will still be enough room to carry cameras, guide books and the ubiquitous bottle of water
Of course there will be times when you absolutely must check your luggage. In that case, bring your valuables onboard and use a comination lock and luggage straps on your checked bags.  But if life is a journey, why not travel light?
© 2011 – 2013, My Flying Fingers. All rights reserved.