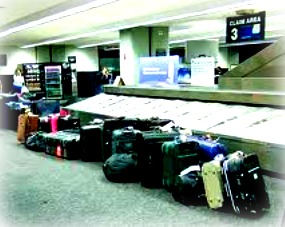 I've only checked my suitcase five times in thirty years.  Flying standby can mean a last minute dash to the gate and if my bag doesn't get onboard, neither do I.  Skip carousel chaos and lost luggage limbo by bringing your suitcase onboard.
 Choose lightweight shirts and sweaters that can be worn separately or layered.   Good fabric choices are silk, cotton and merino wool. Visiting a tropical destination? Remember that air-conditioning can be bone chilling.   I always pack a hat and scarf, though they may range from a boater and sarong to a beret and pashmina.
Carrying enough toiletries aboard is simple once you know that only liquids, gels or aerosols have to fit inside the one litre clear, resealable "security baggie." A medium-sized zip-lock freezer bag works well.   Place toothbrushes, razors and powdered cosmetics in your regular travel kit.
Toothpaste, shave cream and mascara are considered liquids and must be in containers no larger than 100ml.  Buy travel-sized products and make substitutions, like stick deodorant for roll-on to reduce the quantities of liquid.  
 Prescription medications and items like contact lens solution are exempt from these limits. Visit the Canadian Air Transport Security Authority (CATSA) or the US Transportation Security Administration (TSA) website for current regulations about carry on and checked luggage.
© 2011 – 2013, My Flying Fingers. All rights reserved.