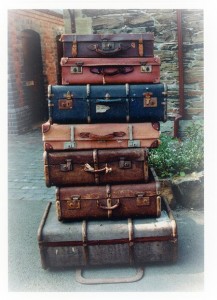 Statistics like "42 million suitcases mishandled last year" never bother me.  I always make sure my luggage fits onboard. Flying standby can mean a last minute dash to the gate and late check-in is one reason bags go astray.
 Travelling light saves you money and increases your mobility. I've successfully toured for up to ten days with only one carry-on.  On longer trips, local dry cleaners are an economical option.  For creative packing tips and current regulations, visit onebag.com, the Canadian Air Transport Security Authority website CATSA and the US Transportation Security Association TSA.
© 2011 – 2013, My Flying Fingers. All rights reserved.