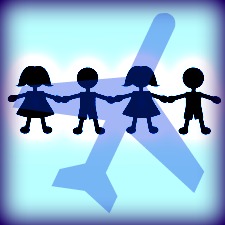 It's hard when families are separated on planes, even on short-haul flights. Here are a few tips to help recify the situation:
Check in as early as you can
After seats are assigned and boarding cards are printed, passenger agents are unlikely to ask people to change. They'll probably suggest that you ask the flight attendants for help. Online check in can help beat the airport crowds.
Swap your good seat for a bad seat
Passengers don't usually want to give up aisle or bulkhead seats, especially if they've paid extra for them. Once onboard, if you can offer someone a better seat or location (front of plane), many will oblige. Remember, no one wants the middle seat.
Think creatively
Not everyone has to sit together in a row. If family members are across the aisle from each other or in the row ahead or behind, that should be close enough to reduce stress levels, especially on short-haul flights.
Ask your flight attendant for help
If people won't budge, sometimes a crew member may be able to suggest alternatives. Remember that we can't force anyone to move, but sometimes we can offer small incentives to passengers who help us out.
Sitting apart can be fun
For some kids, being separated from parents isn't such a bad thing. Older children may enjoy feeling grown-up enough to sit by themselves or with another sibling, especially when Mom and Dad are only a few rows away.
Instant Karma
I once moved a helpful passenger to first class, though there were still empty seats in economy.  This was after 6 other passengers refused to move across the aisle. You can be sure I said "Follow me to First Class," loudly enough for everyone to hear.
Another time, a cranky businessman was rewarded with a lapful of vomit from a 5 year old who was nervous because his mother was sitting two rows away. The flight was only an hour long but the mother asked politely and the man refused.  What goes around, comes around, even at 36,000 feet.
© 2012 – 2017, My Flying Fingers. All rights reserved.