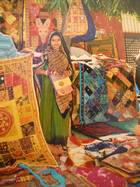 It's 110 degrees in the shade, if you can find any, and I'm haggling with an immovable merchant.  As my jet lag temporarily lifts, I realize I'm arguing over 60 cents.
The remainder of this travel article has been moved to my new website Travel Like A Flight Attendant.
Thanks for stopping by and see you on my new website!
© 2011 – 2017, My Flying Fingers. All rights reserved.