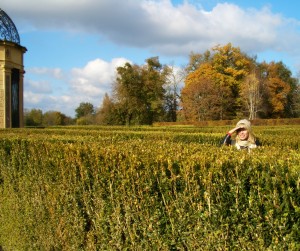 My flying fingers have been travelling the globe.  Here I am in the fabulous garden maze at the Chateau de Cormatin in France.
In my more than 25 years as a flight attendant/In-Charge flight attendant, I've visited over 40 different countries and accumulated more than 20 million air miles. As a member of the world's largest private club, the airline industry, I learned how to travel and live well on a budget.  I'm happy to share my secrets on both with you. We like to say, "Once a flight attendant, always a flight attendant." 
If you'd like to share your travel tips and advice, please contact me at galleygirl@sympatico.ca. I'm also available for interviews and speaking engagements.
Happy travelling and remember, put your own mask on first.
Heather Zorzini
© 2010 – 2011, My Flying Fingers. All rights reserved.