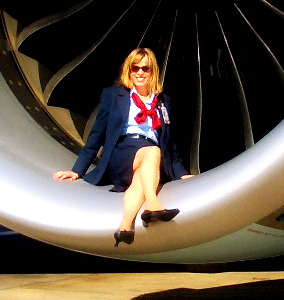 Heather Zorzini has worked as a Flight Attendant/In-Charge Flight Attendant for a major international airline for over than 25 years, visiting 40 different countries and accumulating more than 20 million air miles.  Her new career involves sharing her insider information on how to travel like a flight attendant hrough online and print media and speaking engagements.
Heather Zorzini's essays, articles and photographs
Her Newfoundland tale "Moon over Dildo," was a runner-up in the 2006 Canadian Writers' Collective Travel Story Contest and was later published in the Globe and Mail.
Heather Zorzini's travel advice and comments in the news
She also appears in Comic Coincidence by famed political cartoonist and illustrator Gary Clement about her first day as a flight attendant, when she locked herself in the First Class washroom and refused to come out.
Heather Zorzini is available for interviews and speaking engagements.  Her book "Travel Like a Flight Attendant" will be ready in Fall 2012.  She may be reached at galleygirl@sympatico.ca.
© 2011 – 2015, My Flying Fingers. All rights reserved.